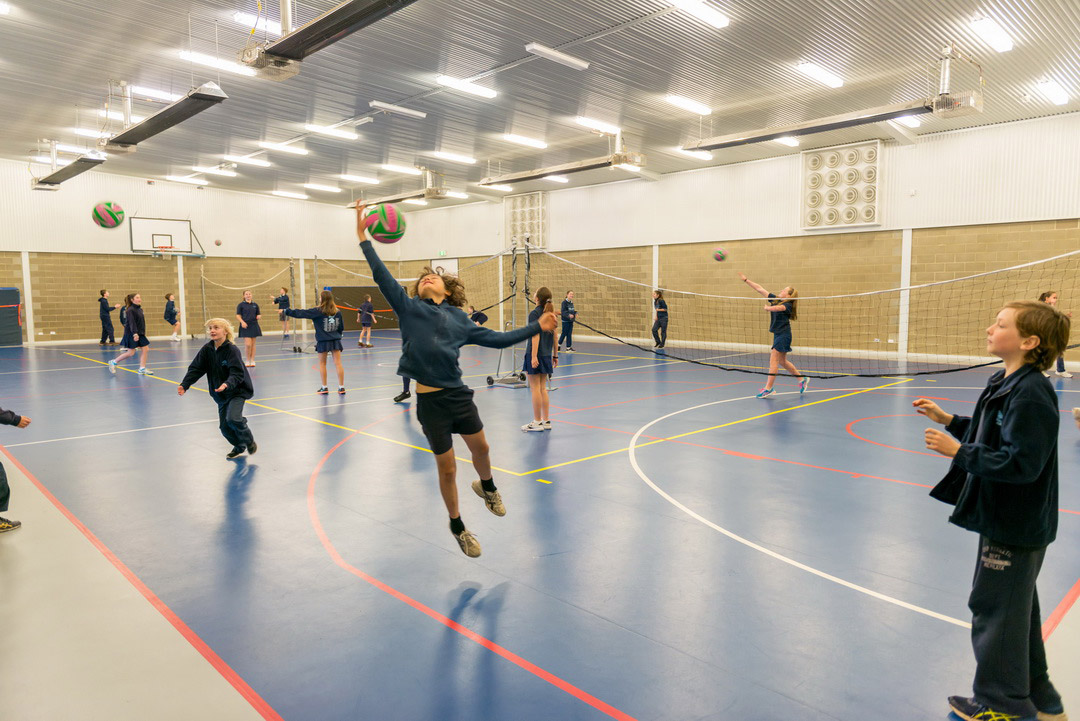 Physical Education
Physical education is part of the Australian Curriculum and is taught as a specialist subject from Reception to Year 6.
Students at Belair Primary School participate in 1 lesson per week with our specialist PE teacher (50 minutes of learning), plus fitness is offered through the classroom program.
Students will experience a wide variety of activities which will assist them to make informed choices about fitness throughout their lives. Students of all ages will be challenged to improve their PE skills in a range of active games, activities and sports. They will be supported and encouraged to enjoy PE and recognise that it is part of a healthy and active lifestyle. The learning of various game skills and the social/emotional development involved in team cooperation are important educational experiences. The PE program is linked to the IB program of inquiry where appropriate.
Sports Day
Belair Primary School hold a Sports Day, traditionally in term 4. Students and staff are put into one of four teams; Blue, Red, Yellow or Green. The team a student is placed in when they are in reception is the team they stay in for all of their schooling at Belair Primary. Sports Day is dedicated to a combination of whole school events and tabloid events which are held in classes.
Leading up to Sports Day, PE lessons are dedicated to learning and practicing the events, meaning the students feel confident and comfortable on the day to give their best and, most importantly, have FUN.
Year 6 students are selected to be team captains for the day. They write a team chant and work on a warm dance – which they then teach to all students. The day kicks off with the chants being recited loudly and proudly!
The school community rally around the event making for an interactive and very memorable day!
Schools Sports SA (formally referred to as SAPSASA)
www.decd.sa.gov.au/teaching/sport
Students have the opportunity to participate in team sports and coaching clinics throughout the year.  Team sports operate under the School Sports SA (formally sapsasa) framework, which provides guidelines for the delivery of the specific sport.
Students 10 years of age or (who turn 10 in the year they wish to participate) are eligible to trail for Swimming, Athletics or Cross Country. Interested students will receive information from the PE teacher regarding trials all throughout the year.
Schools Sport Competition (often referred to as "Knock Out")
Belair Primary School put together teams to represent our school in specific sport. Students have to be in year 5 or 6 in order to trial, with year 6 students holding priority of selection.
Interested students will receive information from the PE teacher regarding trials all throughout the year. Trials, trainings and competitions for School Sport SA one day carnivals events occur during school hours.
Sports may include:
| | |
| --- | --- |
| Softball | Netball |
| Basketball | Soccer |
| Lacrosse | Cricket |
| TA Rugby | Mountain Biking |
District Competitions 
Parents have the opportunity to nominate their child trail for district representation in the Southern Heights district teams created for School Sports SA if they are in year 5 or year 6.
Trails and trainings for School Sports SA 3-4 day Carnivals representing Southern Heights District will occur after school at various locations. If selected into the Southern Heights (District) team students will participate at the State Championships in a 3-4 day carnival during school hours. Information (including dates, locations, permission, costs) for District Teams will be provided by the school when it becomes available.
Sports may include:
| | |
| --- | --- |
| Softball | Cricket |
| Football | Hockey |
| Tennis | Netball |
State Representation
Parents have the opportunity to nominate their child for State Teams. This is to be organised by the parent, directly with School Sport SA. Information can be found on the School Sports SA website. For more information visit Schools Sports SA Competition
PALS – Play at Lunch
PALs- Play at Lunches – is a lunch time activity where year 6 student leaders organise and run activities for reception – year 2 students, with the PE teacher's supervision.
Year 6 students apply to become a PAL leader. Once selected, they complete training with the PE teacher in order to kick off the lunch time activities.
Reception, year 1 and year 2 students are allocated half of one lunch time per week where they get to come along, join in the activities, meet some fellow students they may not 'usually' play with and have fun! Activities such as; "Red Rover", Skipping, "Jam Pot", coordination/social and general fitness activities.
Year 2 – Tuesday  |  Year 1 – Wednesday  |  Reception – Thursday
The PAL leaders go to the year level classrooms before lunch to remind students that it's on and to walk them to the gym if they want to come for some fun.
PALs was specifically designed to provide students who may feel a little lost at lunch with a fun activity PLUS an opportunity for our senior students to learn leadership skills.